The Placemaking kits
The Community Placemaking Kit is for people from all levels of knowledge of placemaking who want to make public spaces in their neighbourhood or local community better places to live, work and play in.
The kit helps you better understand placemaking, the space you want to activate and the communities who use the space so you come up with your best ideas and develop these ready to share with others and make happen!
The heart of the kit is four decks of cards that support a set of activities that can be run in small or large groups, or on your own if want! There is an easy to follow diagram of activities and you can jump in wherever you desire, at your own pace as it suits you.
There are also a plethora of materials for you to play with to help with the activities, whether you are huddled around a table in a cafe, running a workshop in a community centre or out and about walking around your neighbourhood - you'll find everything you need in one tidy box.
If you'd like to get hold of one of the free kits, post your interest up on the Tāmaki Makaurau Placemaking Week (link tot the FB group) and someone will connect you with one of the current kit-holders. If you'd like your own kit, or your own copy of the cards, get in touch with Toby from The Open Fort at toby@theopenfort.com and he'll get you sorted!
Great Place cards

Placemaking cards

Ideation cards

Lens cards

Activity cards

Clipboard

Witeboard

Placemaking in Progress' board

2 Road Cones

2 High Vis vests

4 Lanyards
2 Whiteboard markers

Blank A4 paper

1 pair Scissors

2 Bulldog clips

4 sticks Chalk

1 Tape in plastic dispenser

1 roll Gaffer tape

4 Rubber bands

1 Tape measure

Coloured cards

Plasticene
4 Bic ballpoint pens

1 strip Blutac

3 packs Post-Its

1 roll String

2 Sharpies

8 Colouring in pens

Blank white cards

Coloured matchsticks

Coloured pipe cleaners

Lego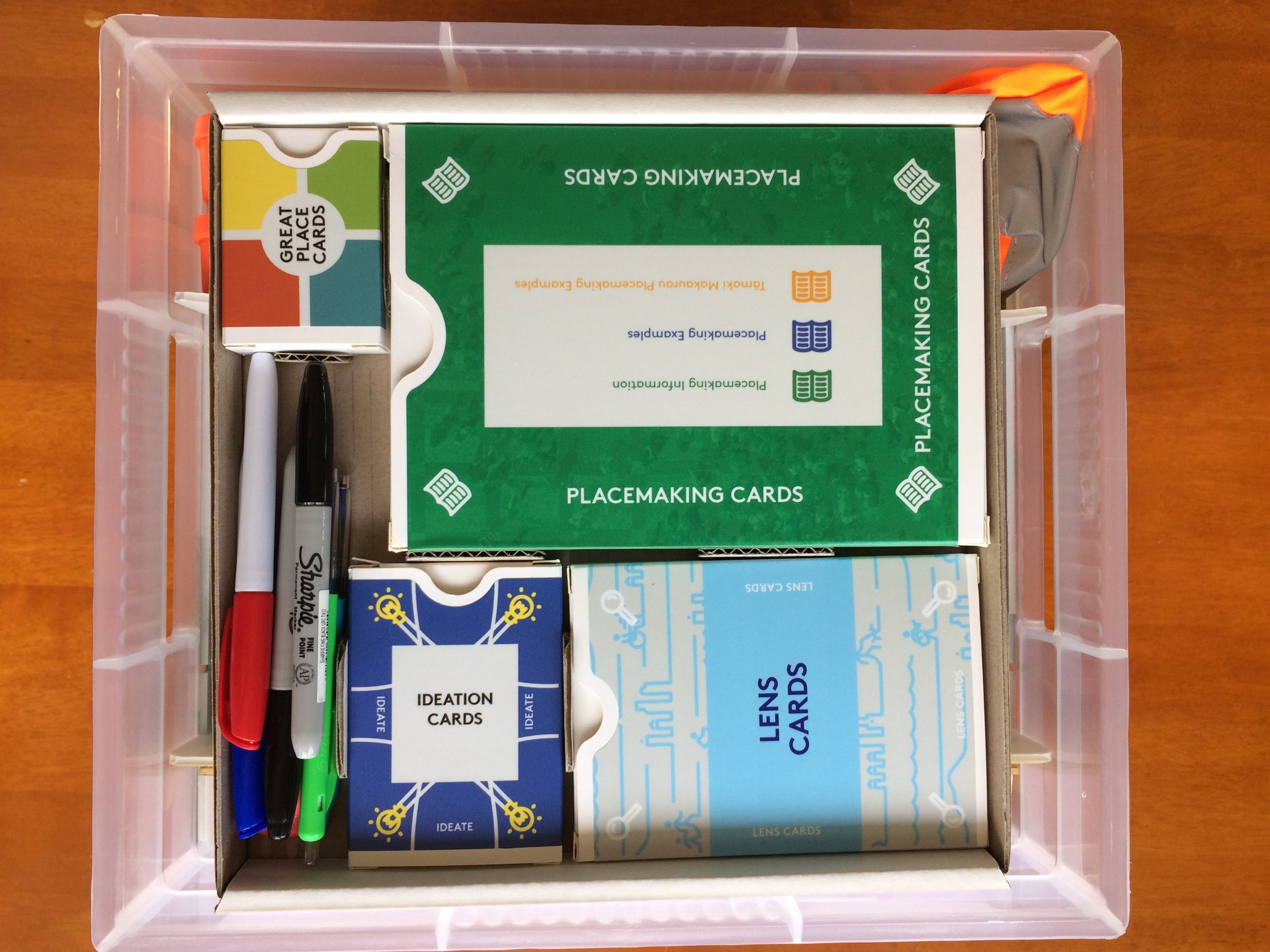 Place Leaders
Place leaders have access to a place kit and are located all across Auckland
To find out who your local place leader is navigate over to the activations page or use the link below